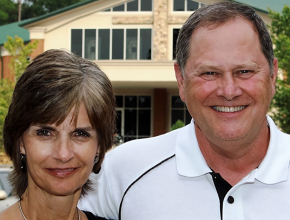 Dr. Phil Pilgrim
Senior Pastor
Senior Pastor
Dr. Phil & Sandi Pilgrim

On Sunday, May 20, 2012 the members of Unity Baptist Church voted to call Dr. Phil Pilgrim to take on the duties of Sr. Pastor where he had been serving as Interim Pastor since October 1, 2011. He was welcomed as the official Sr. Pastor on June 1, 2012. Dr. Pilgrim has served as a Regional State Missionary for the West Central Georgia Area of the Georgia Baptist Convention, also in Interim Pastorates as a Georgia Baptist Missionary in 10 churches in Georgia. He served as Sr. Pastor of three other churches, also. He holds an Associate of Arts in History from Brewton-Parker Junior College, in Mt. Vernon, Georgia. He received a Bachelor of Arts in Christianity and Speech / Drama
from Mercer University, in Macon, Georgia. He earned a Master of Divinity and also a Doctor of Ministry from Southeastern Baptist Theological Seminary in Wake Forest, North Carolina. He and his wife, Sandi, have two adult children. Son Joshua Pilgrim. Marred to Chelsea, granddaughter Charlotte. Daughter April Duke, Married to Brandon, Eden, A.J. and Abram...granddaughter and two grandsons.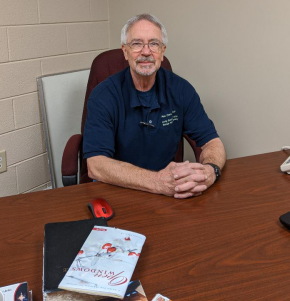 Corky Jordan
Seniors Minister
Seniors Minister
Corky Jordan
Elliot "Corky" Jordan is our Seniors Minister and Ministry Leader. He likes to refer to the Seniors of the Church as the "Seasoned" folks and he has a passion and love for teaching and leading them in Bible studies, fellowship, and on the many trips they take during the year.
A letter from Corky:
During Operation Desert Shield/Desert Storm, I accepted Jesus Christ as Lord and Savior. During my time in the Army National Guard I served as a cavalry scout and then I served as a chaplain assistant. I was baptized at East Newnan Baptist Church where I served as Sunday school director for several years during which time, I heard the call to the ministry. In March of 2001 I was licensed to the ministry and in November of that same year I was ordained. I have a diploma from Liberty University in religious studies. I served East Newnan Baptist Church as Minister of Education/Outreach for 10 years. In 2016 The Lord led my wife, Susan and myself to Unity Baptist and in April of 2018 I was offered the position of Minister to Senior Adults. I love serving at Unity and serving our senior adults. They are truly Champions for Christ and have a lot of wisdom and knowledge. I receive a blessing each Tuesday when we have our weekly Bible study. If I can be of any assistance, please feel free to call me any time.
Your servant in Christ,
Rev. Elliott (Corky) Jordan
Minister to Senior Adults
Judy Cash
Administrative Assistant and Church Secretary
Judy is the Church Office Administrator and is her voice you will hear any time you call the church office.
Donny Smith
Interim Youth Minister and Leader
Interim Youth Minister and Leader
Donny and Allison Smith
Donny is our Interim Youth Minister. He and his wife Allison have accepted the call to be the Youth Ministers until such time as God's chosen person or couple comes to Unity. He is a seasoned Youth Minister and we are all excited to have him with us.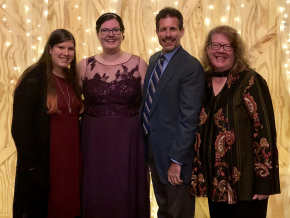 Rob Langer
Worship Leader/Music Minister
It is an honor to be a part of the family at Unity Baptist Church! I have over 20 years of worship leading experience. Most recently, I spent 6 years as worship pastor at Newnan City Church (formerly known as Browns Mill Church).
In addition to my worship leading, I serve in fulltime ministry as an on-air personality, newscaster, and underwriting specialist at The JOY FM. God has blessed me to be a part of a station that has a purpose to lead people in their walk with Jesus. Prior to that, I spent 20 years as a traffic reporter in New York and Atlanta.
I have been blessed with a wonderful family. My wife, Nancy, has a heart for serving and being involved in the community. She is currently a case worker with the Salvation Army in Newnan. I also have two daughters, Maddie and Emma. Both girls have had a heart for Jesus and seek His guidance for their lives!
Worship through music has always been an important part of my walk with Jesus. It's a time when we can express our love for Him, and clear our minds and hearts to prepare ourselves to hear God speak into our lives. I look forward to creating that same atmosphere and serving you at Unity!