UNITY baptist church
A Place For Family.
A Place for you.
"Our family now includes our friends here at Unity. Together, as friends and family, we are learning more about God's love and His plans for our family and our church"
Loving People, Sharing Christ, Transforming Lives
OUR NEXT Sunday Service
10:45, June 27, 2021
In the Sanctuary of the Worship Center
We will not just survive, we will Thrive!!!!!
Our Sunday Service will be live-streamed on our Facebook Page: Unity Baptist Church-Newnan
Sunday morning worship services have been outstanding this month and this last Sunday was no exception. Dr. Mac delivered a Father's Day message entitled, "The making of a Godly Father." The message was filled with encouragement and guidance for all the fathers that were in the congregation as well as the mothers too. His message came from Luke 15:11-24 and it was a lesson from the story of the prodigal son that was all about the father in the story. The Godly father that showed mercy and love and welcomed the prodigal son home with open arms and nothing but love and mercy. I am sure that Dr. Mac's message touched all the fathers in the crowd no matter their age or the age of their children. He laid out the example of Godly father that we all need to strive to be. We invite you to be with us next week at 10:45 on Sunday, June 27th to take part in another Praise and Worship service that will lift you up and encourage you.
There is construction work going on across campus so we ask you to be aware and be cautious for your own safety. Please be very careful as you walk through the Foyer and Welcome Center area. The carpet has been removed and there are small drop offs between the tile and the bare concrete. Please walk slowly and carefully in those areas. We look forward to seeing you in the Sanctuary at 10:45 Sunday morning. Come praise and worship with us as we meet to honor our God and His Son Jesus.
The Unity Baptist campus is closed due to extensive storm damage received during the early morning hours of Friday, March 26, 2021. Even though we are not able to use some of our buildings due to the damage we do have access to the Old Chapel, the Education Building and the Children's Building. Please continue to check here and Unity Baptist Facebook site to get further information any upcoming services
*** Production Note*** Thanks to the generosity of an anonymous donor we now have a brand new video camera that is a huge step up from the little one I have been using. The new camera is much more complex and it will take some time for me and the other operators to learn all the ins and outs of using it properly. We ask you bear with us as we get the hang of the new camera. I promise you we will and our online presence will just get better and better. Thank you for your patience
"The making of a Godly Father"
Support Unity Baptist
Children's Ministry on Wednesday Nights
Wendy Moore, our Children's Minister, is so excited to be able to start Wednesday night activities for our Children. She has put together an amazing program that will help your children learn and grow in the Word and in Jesus. Her and her group of dedicated and loving volunteers are looking forward to welcoming your children to this new and fun-filled Wednesday night activity. Please bring your children to Unity Baptist on Wednesday nights and let them enjoy growing in their walk with Jesus.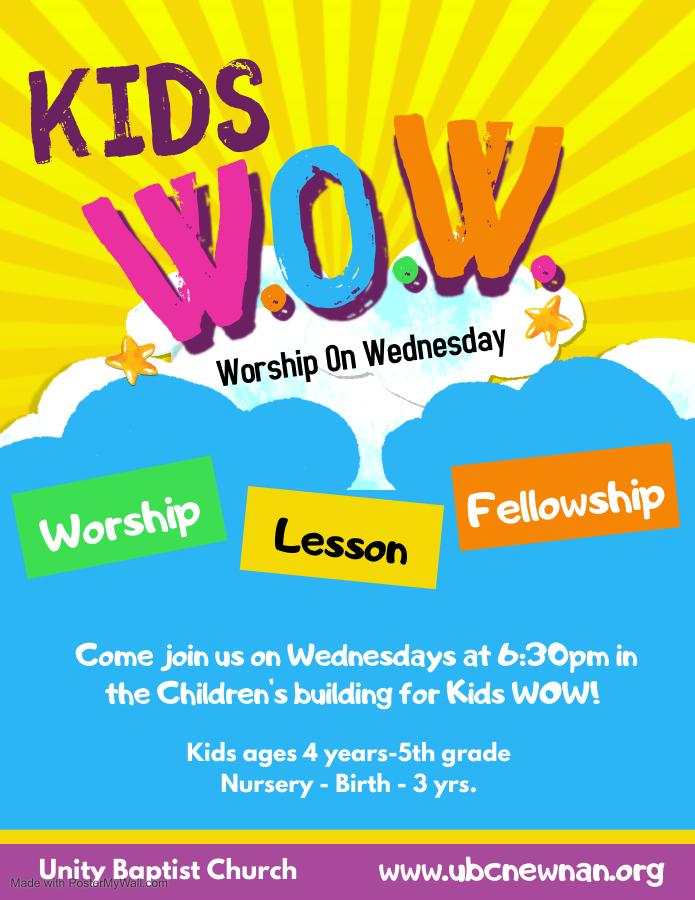 Vacation Bible School
Friday, July 16th, 5:30 pm till 8:00 pm
Saturday, July 17th, 9:00 am til 3:00 pm
Family Day Sunday, July 18
Family Donut Fellowship @ 10:15 with Family Worship Service Following
Times Will be Announced Soon
Pack your bags and grab your gear, VBS 2021 is headed to present-day Israel where an epic adventure of discovery awaits! Discover long-hidden treasures, amazing finds, and exciting evidence that proves biblical events were not just stories. They really happened!!
At Destination Dig VBS 2021, kids will unearth more than just dirt. They'll discover real-life archaeological finds that have helped to uncover the truth about Jesus!
Friday, July 16th, 5:30 pm till 8:00pm
Saturday, July 17th, 9:00 am til 3:00 pm
Sunday, July 18th, 10:15 Family Donut Fellowship, followed by Family Service with the Unity Praise team and the children singing their VBS songs. Dr. Mac will deliver a message after the VBS presentations.
Completed Pre-K through Completed 5th Grade
Register Now to volunteer!