UNITY baptist church
A Place For Family.
A Place for you.
"Our family now includes our friends here at Unity. Together, as friends and family, we are learning more about God's love and His plans for our family and our church"
Loving People, Sharing Christ, Transforming Lives
Sunday Service
Mother's Day
10:45 am, Sunday May 9th, 2021
In the Sanctuary of the Worship Center
We will not just survive, we will Thrive!!!!!
Our Sunday Service will be live-streamed on our Facebook Page: Unity Baptist Church-Newnan
We will have our regularly scheduled Sunday morning service at 10:45 am, Sunday, May 9, 2021, Mother's Day, in the Sanctuary of the Worship Center. There will be Children's Church though it will be in the main Worship Center. There will be a room down the left hallway and on the left hand side for the children to gather for Children's Church. There is construction and demolition work going on across campus so we ask you to be aware and be cautious for your own safety. The foyer will look completely different to you as the drywall and insulation has been removed on all the walls and the carpet has been removed throughout the foyer. Please be careful as you transit the construction area. We look forward to seeing you in the Sanctuary at 10:45 Sunday morning. There is power and water turned on so we can use the bathrooms in the Worship Center. Come praise and worship with us as we meet to honor our God and His Son Jesus.
The Unity Baptist campus is closed due to extensive storm damage received during the early morning hours of Friday, March 26, 2021. Even though we are not able to use some of our buildings due to the damage we do have access to the Old Chapel, the Education Building and the Children's Building. Servpro has left the campus and they have left it so much better. They are responsible for much of the cleanup around campus. Their crews worked tirelessly cleaning up, picking up debris and junk and getting everything back as clean as possible. We thank them for their untiring work and for all they did for us. Please continue to check here and Unity Baptist Facebook site to get further information any upcoming services The Deacons and Leadership team members have met and are working towards getting parts of the campus reopened. Dr. Mac and Miss Greta's new home is certainly looking more and more like a home, water has been run, electricity is set up and Dr. Mac even has DirectTV now so he can watch his Dawgs while cooking. (He Does have an outside TV). Thank you all that have helped in getting their new RV fixed up and ready for them to live in it.
Sunday May 9th, 2021, Dr. Mac's message was entitled, "Love of a Mother". Dr. Mac's message came from 2Kings 4:8-27 and it was about the kind of love that mother's have for their children. This story was about a woman who wanted nothing more than to have a child, a son. It was a story of faith and belief in God and what power He has. Dr. Mac's message was a timely reminder on this Mother's Day about how our own mothers have loved us and taken care of us. It also reminds us how our mothers love is very much like how Jesus loves us an cares so much for us. Something for us to think about as we recover from the storm and move forward. Now is a time for Unity Baptist to shine and to thrive because we have the right attitude and we see the vision that Dr. Mac sees for us. A vision that we need to trust God about, but be willing to change our attitude, if it needs changing, and then work to make that vision happen and pray God will give us great success.
Support Unity Baptist
Baby/Child Dedication
Sunday, May 23rd, 2021
Sunday Morning, May 23rd, we will celebrate Baby/Child Dedication! That Sunday morning families will meet with Miss Wendy at 10:30 in the Worship Center. If you have any questions feel free to contact our Children's Pastor, Wendy Moore . Families need to be signed up before Wednesday May 12th.
Children's Ministry on Wednesday Nights
Wendy Moore, our Children's Minister, is so excited to be able to start Wednesday night activities for our Children. She has put together an amazing program that will help your children learn and grow in the Word and in Jesus. Her and her group of dedicated and loving volunteers are looking forward to welcoming your children to this new and fun-filled Wednesday night activity. Please bring your children to Unity Baptist on Wednesday nights and let them enjoy growing in their walk with Jesus.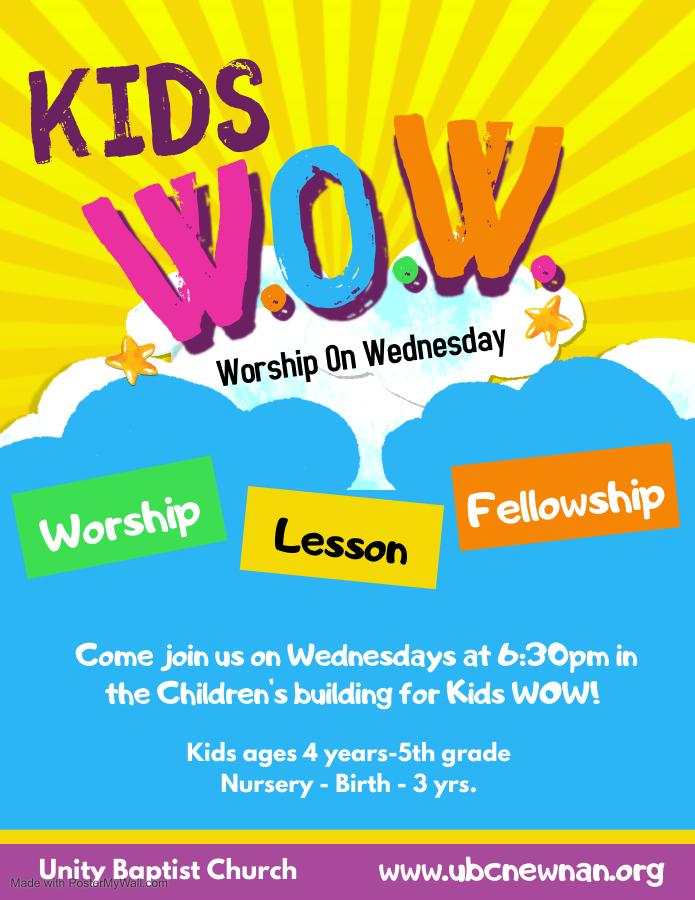 Vacation Bible School
June 21st - June 24th
9:00 am -12 pm
Pack your bags and grab your gear, VBS 2021 is headed to present-day Israel where an epic adventure of discovery awaits! Discover long-hidden treasures, amazing finds, and exciting evidence that proves biblical events were not just stories. They really happened!!
At Destination Dig VBS 2021, kids will unearth more than just dirt. They'll discover real-life archaeological finds that have helped to uncover the truth about Jesus!
June 21st - June 24th
9am-12pm
Completed Pre-K through Completed 5th Grade
Register Now to volunteer!