UNITY baptist church
A Place For Family.
A Place for you.
"Our family now includes our friends here at Unity. Together, as friends and family, we are learning more about God's love and His plans for our family and our church"
Loving People, Sharing Christ, Transforming Lives
Sunday Service
10:45 am, Sunday April 4, 2021
In the Sanctuary of the Worship Center
There will not be Children's Church this week.
We will not just survive, we will Thrive!!!!!
Our Sunday Service will be live-streamed on our Facebook Page: Unity Baptist Church-Newnan
We will have our regularly scheduled Sunday morning service at 10:45 am, Sunday, April 11, 2021 in the Sanctuary of the Worship Center. There will be no Children's Church this week so the children will be with us in the Sanctuary. There is construction and demolition work going on across campus so we ask you to be aware and be cautious for your own safety. The foyer will look completely different to you as the drywall and insulation has been removed on all the walls and the carpet has been removed throughout the foyer. Please be careful as you transit the construction area. We look forward to seeing you in the Sanctuary at 10:45 Sunday morning. There is power and water turned on so we can use the bathrooms in the Worship Center. Come praise and worship with us as we meet to honor our God and His Son Jesus.
The Unity Baptist campus is closed due to extensive storm damage received during the early morning hours of Friday, March 26, 2021. Even though we are not able to use some of our buildings due to the damage we do have access to the Old Chapel, the Education Building and the Children's Building. We have had commercial restoration professionals working since Saturday to get the buildings covered, cleaned and dried out so that we can use it. We will have service in the Sanctuary on Sunday, April 11, 2012 at 10:45. Please continue to check here and Unity Baptist Facebook site to get further information any upcoming services The Deacons and Leadership team members have met and are working towards getting parts of the campus reopened. We currently have a commercial company working to get as much of the building covered and watertight in order to minimize the damage already done. Keep praying for the workers and the leadership during this time. Pray for Dr. Doug McCart and his wife as they have lost their home and the majority of their belongings. We will continue to post information as it is received and pass it along as quick as we can.
This morning Dr. Mac's message was entitled, "Trust God when everything says don't.". Rev Mac shared with us the story of the Israelites as they fled Egypt during the great Exodus. When the Israelites came to the Red Sea they were filled with panic and anger. They could not believe that God had led them to the banks of the Red Sea with no way to get across. There were no boats waiting for them and they had the sea in front of them, the barren sands of the dessert to their sides and the huge angry Egyptian army behind them. But God had a plan already and all the Israelites had to do was trust Him and follow His commands. Moses did trust Him even when everyone was arguing not to. He touched his staff to the water and the Red Sea parted and every one of the Israelites walked across on dry ground. That is the power of trusting in God. Dr. Mac also shared about his trust in God during the tornado and sitting in the stairwell of the gym, listening to the tornado roaring all about him and Miss Greta, and yet they trusted God and waited on Him. They survived the storm without a scratch or a drop of water on them. God had prepared a way for them to survive, all they had to do was trust Him and hold on to their faith in Him. Do you trust God? Do you trust God even in the times of storms and trouble?
Easter Sunday's Message was entitled, "I'll Be Back". Dr. Mac delivered a message of encouragement talking about when Jesus returns to call His children home. He promised He would come back and on this Easter Sunday that is what we should be focused on, not the grave or the cross but the fact that Jesus promised He would return. He would come back for us. Dr. Mac challenged us to remember these words and to live them out in our daily life as we have contact with all those around us. He also reminded us several times that Unity Baptist would be coming back too and while we had tornado damage on our buildings our people will survive and will be back.
"Trusting God when everything says don't"
Support Unity Baptist
Children's Ministry on Wednesday Nights
Wendy Moore, our Children's Minister, is so excited to be able to start Wednesday night activities for our Children. She has put together an amazing program that will help your children learn and grow in the Word and in Jesus. Her and her group of dedicated and loving volunteers are looking forward to welcoming your children to this new and fun-filled Wednesday night activity. Please bring your children to Unity Baptist on Wednesday nights and let them enjoy growing in their walk with Jesus.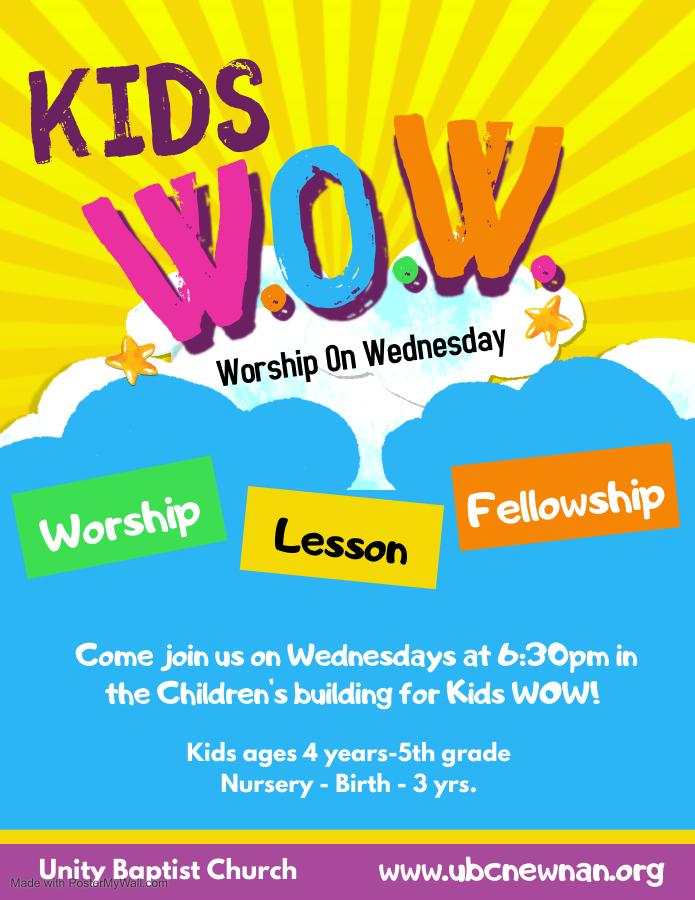 Children's Church and Nursery

We will have hand sanitizer available, will wash hands, and social distance the best we can. Our goal is to share Jesus with these little ones and to keep everyone healthy. For the safety of everyone, leaders will wear a mask while in the lobby and hallways and in close proximity to the children.
Please keep in mind to social distance in the foyer while checking your child in. To help social distance, please enter through the doors on the right side (facing the building) and exit through the left side doors (facing the building, doors with the ramp). We will have signs to guide you