UNITY baptist church
A Place For Family.
A Place for you.
"Our family now includes our friends here at Unity. Together, as friends and family, we are learning more about God's love and His plans for our family and our church"
Loving People, Sharing Christ, Transforming Lives
Sunday Morning Sermon Link
Dr. Doug McCarth will be in the pulpit as our official Transitional Interim Pastor. After last Sunday's service he was confirmed as the new Interim Pastor for Unity Baptist Church. He and his wife Greta were called to serve here at Unity and they are very excited to be here. Dr. McCarth will be preaching from Matthew 9:36 -38 and will asking us, "Do You See It?" Dr. Doug will be challenging each of us on whether we have a vision for the salvation of our family, friends, neighbors and for that matter all of Coweta County and the surrounding areas We are very excited to have Dr. Doug and his wife here and look to hearing what God has given him to deliver to us. Come and worship with us as Rob Langer and the Praise team lead us to worship in preparation for the message that God has laid on Dr. Doug's heart to bring to us. Looking forward to seeing you all at 10:45, Sunday, January 17, 2021.
Support Unity Baptist
Children's Ministry on Wednesday Nights
Wendy Moore, our Children's Minister, is so excited to be able to start Wednesday night activities for our Children. She has put together an amazing program that will help your children learn and grow in the Word and in Jesus. Her and her group of dedicated and loving volunteers are looking forward to welcoming your children to this new and fun-filled Wednesday night activity. Please bring your children to Unity Baptist on Wednesday nights and let them enjoy growing in their walk with Jesus.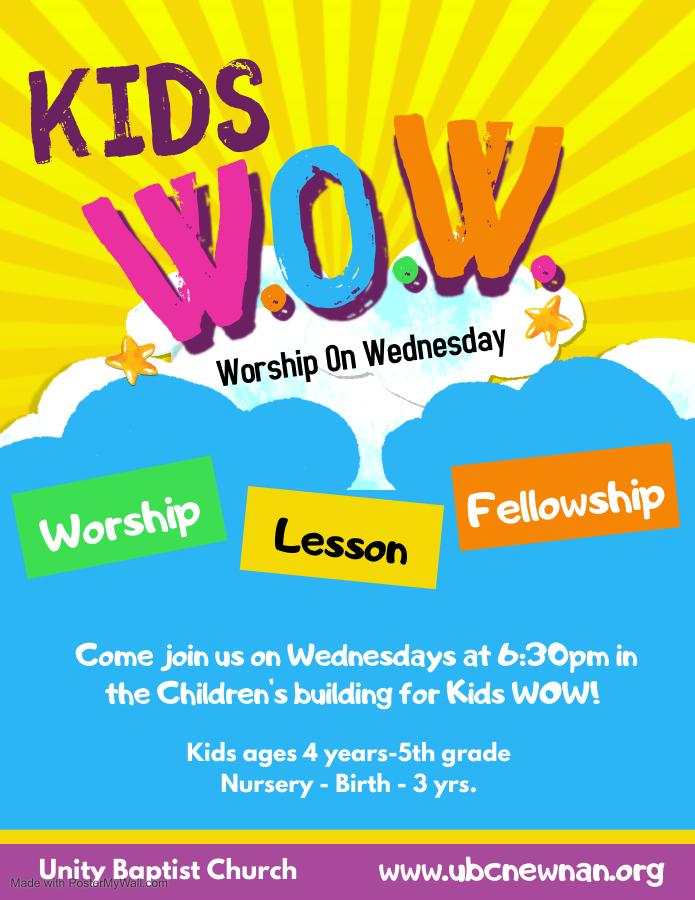 Children's Church Videos for all your children
Our Children's Minister, Wendy Moore, will put links to new videos each week for you and your children to view and enjoy. There are new videos up this week, December 6, 2020. Make sure you give your children a chance to see these newly selected videos. These are videos from various places on the web that she has reviewed and approved. She has categorized the videos by age group and we have listed them in the Kids and Youth Section of the web page. CLICK ON THE BUTTON BELOW and it will take you to the Kids and Youth page which has the videos listed in age group order. Have fun watching with the children in your life.
Children's Church and Nursery
We will have hand sanitizer available, will wash hands, and social distance the best we can. Our goal is to share Jesus with these little ones and to keep everyone healthy. For the safety of everyone, leaders will wear a mask while in the lobby and hallways and in close proximity to the children.
Please keep in mind to social distance in the foyer while checking your child in. To help social distance, please enter through the doors on the right side (facing the building) and exit through the left side doors (facing the building, doors with the ramp). We will have signs to guide you