UNITY baptist church
A Place For Family.
A Place for you.
"Our family now includes our friends here at Unity. Together, as friends and family, we are learning more about God's love and His plans for our family and our church"
Loving People, Sharing Christ, Transforming Lives
OUR NEXT Sunday Service
10:45, Sunday, January 23rd, 2022
In the Sanctuary of the Worship Center
Our Sunday Service will be live-streamed on our Facebook Page: Unity Baptist Church-Newnan
Dr. Mac's sermon today was entitled, "Whatcha going to do in 2022?". His scripture for this message came from Nehemiah 4:1-6, which is the story of the rebuilding of Jerusalem by the King's Cupbearer, Nehemiah. Nehemiah was not discouraged or worried about all the work that needed to be done, instead he was excited that God had chosen him to be the one to rebuild the walls and gates of Jerusalem. He had the mind of God and was focused on the work that needed to done. What was even more exciting was that even when the Jews were challenged, mocked and ridiculed by those around them, they responded by working even harder because they "had the mind to work". Dr. Mac was quick to ask each of us, "Do we have the mind to work, are we ready to do God's work?" What he also emphasized is that if we are doing God's work and we are a people with a mind to work, our work will be multiplied and we will flourish and grow. So the question at the end of the sermon was the same that was asked at the beginning, "Whatcha you going do inn 2022? We look forward to seeing you next Sunday, January 23rd, 2022 at 10:45 for another time of praise and worship. Invite your friends, family and neighbors to come and make Unity not just our church but their church also.
**** The sound on our video recording may vary from week to week due to the issues we are experiencing because of tornado damage to our sound system. We have contracted with a company to replace our sound system and the work will begin as soon as the equipment is delivered. Please be patient with us as we work through these challenges. I promise you that the Praise and Worship team sounds fantastic in person. Come join us on Sunday Morning and see for yourself. Thanks. Sound Crew******
Support Unity Baptist
Children's Ministry on Wednesday Nights
Wendy Moore, our Children's Minister, is so excited to be able to start Wednesday night activities for our Children. She has put together an amazing program that will help your children learn and grow in the Word and in Jesus. Her and her group of dedicated and loving volunteers are looking forward to welcoming your children to this new and fun-filled Wednesday night activity. Please bring your children to Unity Baptist on Wednesday nights and let them enjoy growing in their walk with Jesus.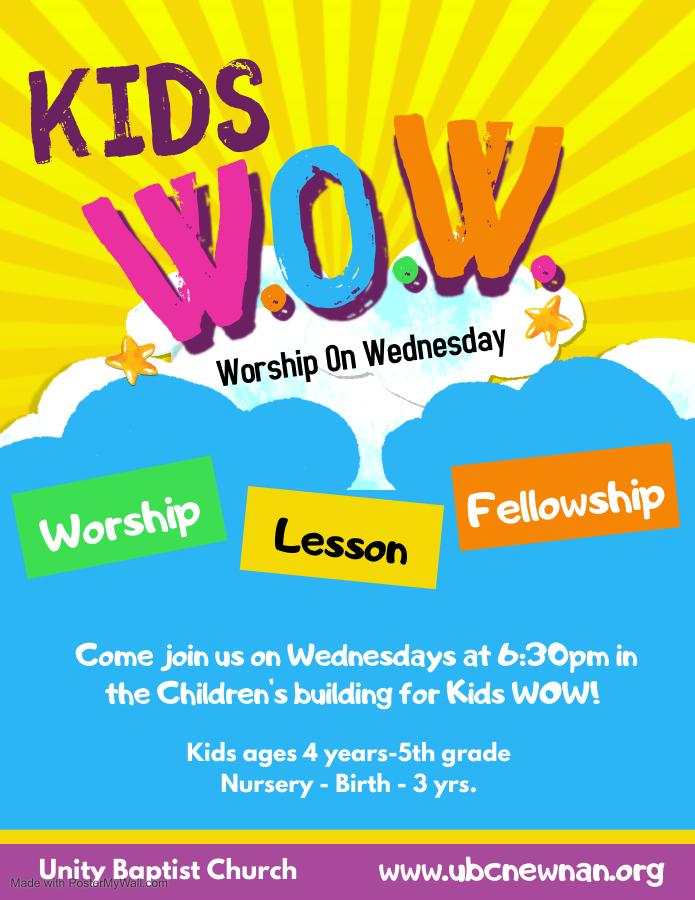 Children's Church on Sunday Mornings
We do have Children's Church on Sunday Mornings for 1st-5th grade students and Wiggle Worship for our youngers children, 3 years - K. The older chidden (1st-5th) will come down from the Children's Building with our leaders to enjoy the Praise and Worship part of the service, then they will be escorted back up to the Children's building for a special Bible Story and Study Time. We will also bring the Nursery children down and deliver them to their parents before the morning Worship Service. After the Worship Service you can pick them up at the Children's Building Front Door. The children love the time they get to spend with our Staff and Volunteers. We are so excited to have them join us each Sunday.
Nursery for Worship Service
We do have Nursery available during the Worship Service that is staffed by one of our many loving volunteers. The Nursey is located to the left of the Sanctuary when you are coming in the Welcome Center Area. If you go through the double doors by the Hebrews Coffee shop and continues down the hallway you will see the nursery on the left hand side of the hallway.