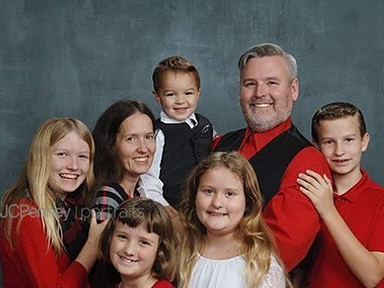 Joshua Casey
Children's Minister
Office: 770-253-2483
Children's Minister
Joshua Casey
It has been my pleasure and calling to serve Unity Baptist Church as the Children's Pastor since August of 2016. I am currently in seminary at Bethel Seminary studying Children's and Family Ministry and expect to graduate in December of 2020. Along with me on this life of service is my wife, Jessica Casey, and five children, Jewel (14), JD (13), Jayce (11), Juliette (10) and James Bentley (3). Each person in my family is an important part of my ministry and loves and supports Unity alongside me.
In today's world, it is important for the children to know that they have someone they can come to no matter what the situation outside of their family. It is always and will always be my goal, to be that person for each child who walks through the doors of the ministry God has called me into. It is my belief and practice that the family is the root of every person's spiritual life. Therefore, within the children's ministry, we must focus on the entire family. There must be opportunities presented to families for children to see their parents in teaching and leadership roles within church events. It is for this reason, that it is my intention to provide a year with family events that are formative for children and their families towards growing closer to each other and to God. It is my goal for Unity's children's ministry to be a place that families proudly call their home away from home.
The children's department focuses on the church's mission statement, which is Loving People, Sharing Christ, and Transforming Lives. As a children's department, we lead in Loving People as God loves by offering many the opportunity to serve the community. These include multiple date nights for the parents, which we call Parent's Night Out, serving meals at Bridging the Gap, and collecting needed items for the Baptist Children's Home as well as for One Roof and Backpacks for Appalachia during VBS and other times of the years. We Share Christ through Wednesday night Awana programming, and SonShine Club which is an afterschool program that meets at Atkinson Elementary and is free of charge to the students. Additionally, we have Sunday morning Sunday School and Children's Worship Service and many other opportunities. When it comes to Transforming Lives, as a Children's Pastor, I believe that it is the Holy Spirit who transforms lives. As a church family, we are called to provide people with an atmosphere, the teaching, and encouragement that promotes a desire interaction with the Holy Spirit. One of the ways that we create opportunities for the children to experience the Holy Spirit is through regular lessons on prayer and the availability of a set apart prayer area that is always available to the children.